Making sure you get your best from every ride involves matching you and your bike as perfectly as possible.
Words and Photos: Richie Tyler
We spoke to Brenton Jones - formerly of British team JLT-Condor and now with Delko Marseille Provence KTM - about setting up his bikes to ensure he can be at the front of the race when it matters.
Flying on Condors 
Until this August, when he made the switch to Delko Marseille Provence KTM, Jones was riding the bikes of the London-based Condor Cycles.
A naming sponsor of the squad since 2008, Condor has a well established reputation for crafting beautiful bikes. Bucking the trend of production bicycles, Condor's approach is far more artisanal. Exquisite paintwork and custom geometries are hallmarks of the bikes they produce.
Brenton Jones opened his season aboard the Condor Leggero (Italian for "light"). The Leggero is crafted in Italy, which makes it unique amongst the throngs of marques moving their production facilities to Asia.
Decked out in the red, white and blue of the Union Jack, the JLT-Condor team's bikes maintain the exceptional aesthetics Condor is renowned for. Brenton Jones told us all about his bike and showed us the choices he makes for his race-winning machine.
1. The Frame: Condor Leggero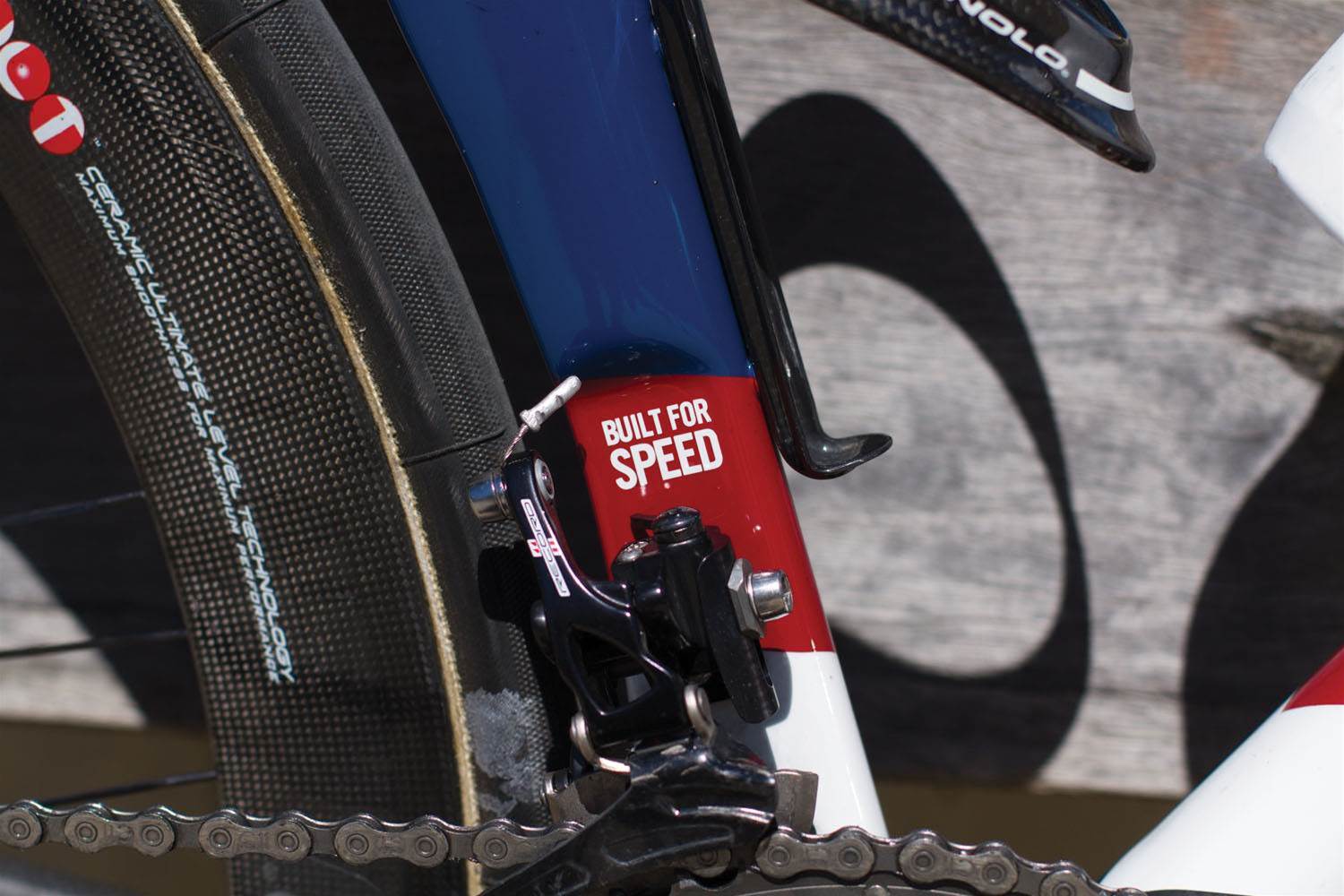 The heart of the JLT-Condor bikes are the beautiful Condor Leggero frames. With a raw carbon finish and a minimal, but striking tricolour paint job they stand out amongst the peloton for their sense of craftsmanship.
Made in Italy from light, stiff, high modulus carbon fibre sourced from Japan. Deep profiled chainstays provide stiffness for optimal power transfer.
Condor have joined other manufacturers in embracing kamm-tail tube profiles (a teardrop tube shape with it's tail trimmed) to improve the aerodynamics of the frame. In particular, the Leggero features a kamm-tail seatpost. 
2. Cockpit: Fi'zi:k Cyrano Handlebar and Stem
At the time of our interview, Jones was getting ready to settle on his choice for the season, with the Cyrano R1 stem, and Cyrano Snake (for the most flexible riders).
3. Computer: Garmin Edge 520
Data is everything to cyclists these days. From sticking to the training program set by the rider's coach to simply measuring the distance to the finish line, every piece of information is important.
For that reason Jones has a Garmin Edge 520 strapped firmly to his handlebars, and secured by the small leash that is shipped with units these days.
Aside from speed, cadence and distance, his computer gives him a read out of his power output via a power2max power meter, integrated into the spider of his crank set.
4. Groupset: Campagnolo Record 11 speed 
At the start of the season Jones eschewed the electronic shifting of Campagnolo EPS in favour of a traditional mechanical group set. A number of pros favour this option, preferring the expertise of their mechanic and their own shifts over the battery operated alternative.
The only break to a full Campagnolo component set is a power2max power meter, a must-have item for pro riders.
5. Wheelset: Campagnolo Bora 
Jones has his bike decked out with Campagnolo Boras. One of the most popular fibre wheels in the pro peloton, it was also one of the pioneering deep dish carbon fibre wheels – and has barely changed in over a decade.
6. Saddle: Fi'zi:k Arione VsX
So far as office chairs go, Jones' perch for the 2017 season, the Fi'zi:k Arione VSX, should keep him comfortable. Constructed from a carbon-reinforced nylon shell, the saddle provides ample support and features the Wing Flex system, for greater pedalling freedom.
THE IMPORTANCE OF COMFORT
When we ask Jones the number one thing he thinks people should look for with a new bike, he knows right away.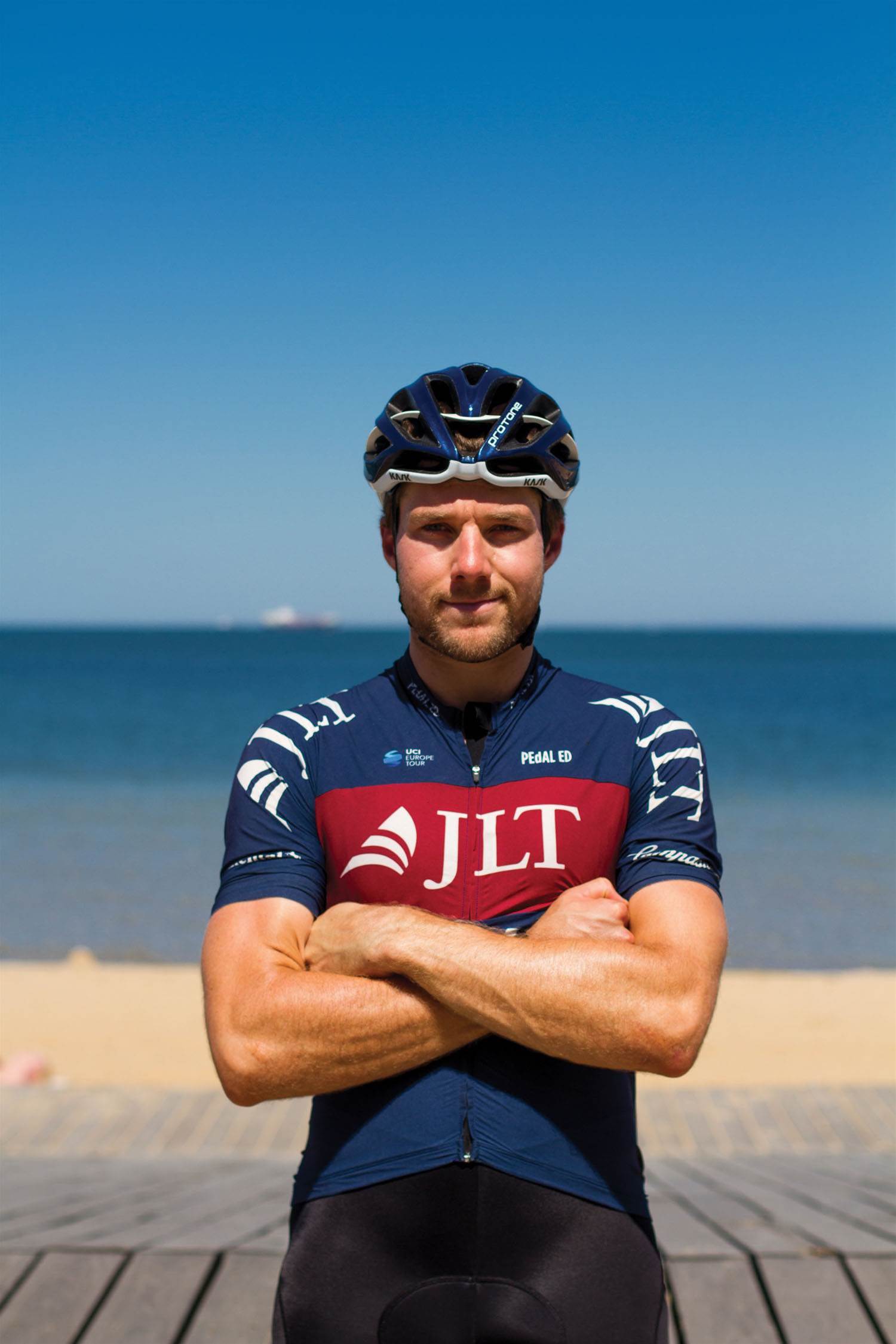 "If I were buying my bikes, I'd prioritise comfort over weight and price. Make sure you get a fit up properly. At the end of the day if you're not comfortable, you're not going to be riding well," he says.
Of course, Jones is in an enviable position of being given bikes to ply his trade, but he still takes the time to make sure his bike is setup properly for him. As a professional racer, Jones knows exactly where he wants his seat and handlebars – but he also wants to make sure what he uses works. All the time.
"I'm definitely not a weight weenie. I don't get too obsessed with that sort of thing. I just make sure it's set up right, and it works, and get on with it."
Fi'zi:k's Cyrano range of handlebars and stems are being integrated into the Italian company's Spine Concept, which matches components to rider flexibility. From being a bull, with the least flexibility in your spine, to a chameleon, with some flexibility, or a snake – with the most flexibility. Like many pro racers, Jones is flexible and uses many of the compenents for 'snakes'.
This means Jones sits aboard an Arione VsX. What sets the VsX apart from the regular Arione is a channel which extends along the middle of the saddle. This recess is designed to reduce pressure, which for someone who's riding as much as Jones does can only be a good thing.
The 25-year-old is also joining the increasing number of pro riders favouring narrower bars. He opts for a 40cm bar, which provides a slight aero advantage and a narrower profile for squeezing through gaps in the final sprint to the line.
We were surprised to see a mechanical Campagnolo Record group set on Jones' Condor – and thought at first it was his training bike. One of the luxuries of being a pro is having the choice between the two options, and Jones may switch back to electronic options when he has team support closer at hand during races – we saw him the day after winning the Victorian Criterium Championships.
While Jones has the Campagnolo Bora wheels on his Condor, he truly believes in matching wheels for conditions. The team also has the choice of a lower profile Bora Ultra 35 for crosswinds and climbing days. However, the low weight and stiffness of the deep dish wheel set makes it a primary option for racers. In spite of the advances in tubeless clinchers, the glued-on tubulars are still favoured by professionals. Offering lower rolling resistance and better road feel their only downside is having to carry a spare tyre on training rides.